---

---
Open Monday-Friday
11:30am - 2pm
temporary hours from June 15 
---
---
We Deliver 7 days!
Same day delivery may not be available. ($50. minimum for flowers)
---
---
604.685.3649 or 
toll free 1.877.685.5060
*Email
: 
info@hanamoflorist.ca
---
---
Pick up for next day
or later during our business hours. 

---
---
Made-to-order 
Bouquets only 
(No pre-made bouquet in the store)
---
---
Flowers for TV & Movie,
Event, Convention,
Funeral & Memorial Service
---
---
---
---
Copyright  ©HANAMOFLORIST.CA
---
---
Trusted by the downtown Vancouver hotels, corporates and residents in Vancouver BC as the experienced and high skilled Japanese Vancouver downtown florist,  Hanamo Florist always designs every floral bouquet and arrangement in very original and unique style.  as soon as you see our sample pictures,  you will find the difference from other flower shops.  We go for three days every week to the flower growers market auction to select the freshest and best quality local seasonal flowers.  We also import roses and many different types of exotic flowers from Ecuador, Asia and other countries. 
Order online,  visit our shop or call directly to Hanamo Florist at toll free 1-877-685-5060 / locally at 604-685-3649.  Hanamo Florist staffs will help you to find the best suited floral arrangement for your any occasions.
Japanese Inspired: our skills can creates classic, modern, zen, any styles you requests. Please visit our Vancouver flower shop at #103 Sunlife Plaze - 1100 Melville Street, Vancouver, BC, V6E 4A6 Canada. Located at the very convenient center of the downtown Vancouver, near Bentall center and Burrard Skytrain station.  Our freshest Vancouver flowers can be delivered to the cities of Vancouver,  North Vancouver, West Vancouver, Richmond, Burnaby, Coquitlam, Port Coquitlam, Port Moody, Anmore, Pitt meadow, Mission, Surrey, Abbottsford, Delta, Langley, White Rock.   Hanamo Florist is located in the heart of Vancouver downtown at Thurlow Street and Melville Street (and Dunsmuir Street) - 1100 Melville Street, Vancouver, BC V6E 4A6
We can accept your last minute delivery request to the nearest our client hotels include : (alphabetical order) Coast Plaza Stanley Park, Fairmont Hotel Vancouver, Fairmont Waterfront Hotel, Four Seasons Hotel, Hyatt Regency Hotel, L'Hermitage Hotel, Loden Vancouver, Opus Hotel, Pacific Palisades Hotel, Pan Pacific Vancouver, Renaissance Hotel, Shangri-la Hotel Vancouver, Shangri-La Hotel, Sheraton Vancouver Wall center, Sutton Place Hotel, Westin Bayshore Resort, and more.
Contact Information
Address
103-1100 Melville Street
Vancouver, BC V6E 4A6
Telephone
604.685.3649
1-877-685-5060
Fax
604.685.3688
Web Site
http://hanamoflorist.ca/
Store Hours
Monday, Wednesday & Friday : 9am - 3pm
Tuesday, Thursday & Saturday : 10am - 3pm
Sunday & Statutory Holiday & some Saturdays
: Closed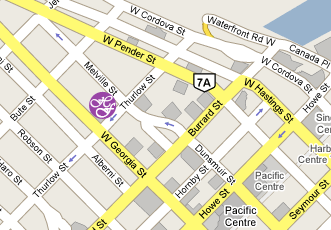 Our Down Town Vancouver Hotel Clients by Alphabetical Order
Coast Plaza Hotel & Suites Vancouver Down Town
Hyatt Regency Vancouver
Pan Pacific Vancouver
Rosewood Hotel Georgia

Sandman Hotel Vancouver Cty Centre
Shangri-La Vancouver
Sheraton Vancouver Wall Centre Hotel
The Fairmont Waterfront, Vancouver
The Sutton Place Hotel Vancouver
The Westin Bayshore, Vancouver
We accept the same day last minute order by 3pm to above hotels on Monday to Saturday, except stat. holidays.